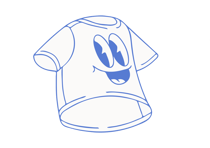 Welcome to Chusprints!
We're a fun-loving, Brooklyn-based custom apparel printing company run by a local couple, Simon & Alice. We're all about bringing creativity and design to the community.
At Chusprints, we believe that everyone should have access to high-quality, custom-made apparel that truly reflects their unique style and identity. That's why we started our company - to make it easy and enjoyable for you to create apparel that represents who you are.
We work closely with each and every one of you to bring your vision to life. We'll guide you every step of the way, from concept to finished product, to make sure your apparel is exactly what you had in mind.
Being a local business, we love supporting our community and the arts. We're proud to be a part of the Brooklyn community and are always happy to work with local businesses, organizations, and individuals to bring their vision to life.
At Chusprints, we believe that custom apparel is all about expressing yourself, standing out and making a lasting impression. We're dedicated to helping you do just that, so thank you for choosing us for all your custom apparel needs. Let's make something awesome together!